Wegner Roofing & Solar is a family owned and operated company that strives to be the very best every time. We are part of a wonderful community and want to add to it in anyway we can. We have core values of Integrity, Honesty, and Trust.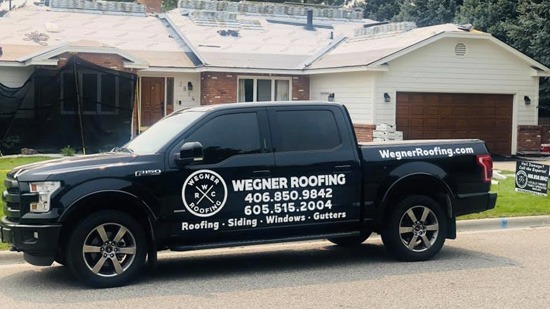 Our philosophy is building clients and not just customers. At Wegner Roofing & Solar we believe when you always do the next right thing, that everything always works out. Our goal with our clients is to educate them, partner with them, advocate for them with the insurance companies, and provide unparalleled quality and workmanship!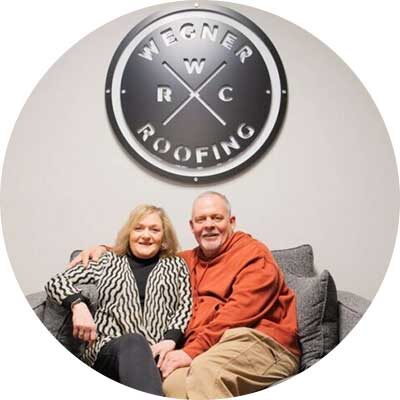 JON WEGNER
Field Project Manager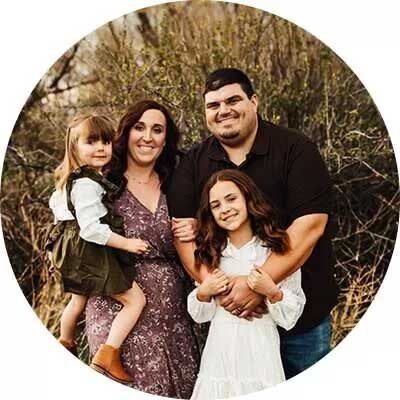 RILEY WEGNER
Roofing President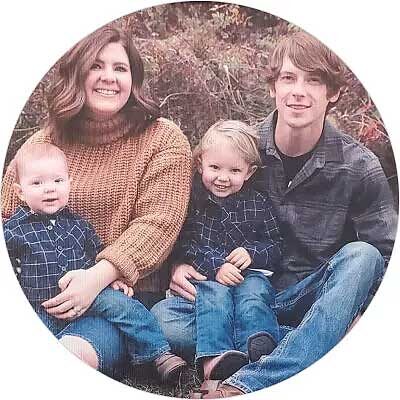 Austin Wallis
Roofing Production Manager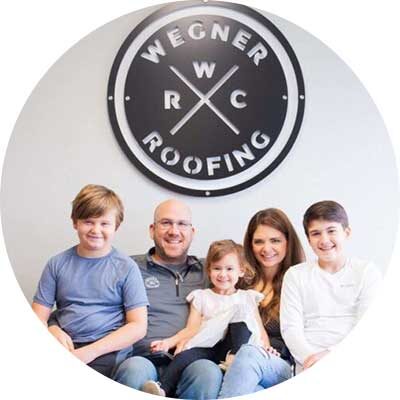 Chris Schneider
Siding and Window President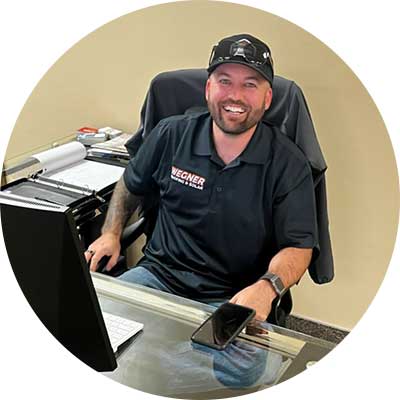 Owen Porter
Siding and Window Production Manager
KELLAN EVANS
Insurance Supplement Manager
Kellan Evans was born and raised in Sheridan, WY. Growing up Kellan gained a love for wrestling that could not be broken. After High School, Kellan attended the University of Wyoming to study Kinesiology and Health Promotion. Realizing that college wasn't the best route to take, he moved back to Sheridan to start working.
Shortly after returning home, Kellan welcomed his son into the world in March of 2009. Kellan lived and worked in Sheridan until 2017 when he moved to Billings. After working for a local restoration contractor, Kellan came to Wegner Roofing & Solar in August of 2020.
With loads of knowledge from the construction industry and also insurance restoration work, Kellan currently manages our supplement division. Making sure all of our clients are fairly compensated after a catastrophe. In his free time he enjoys being a father, snowboarding, woodworking, fly fishing, camping and making furniture.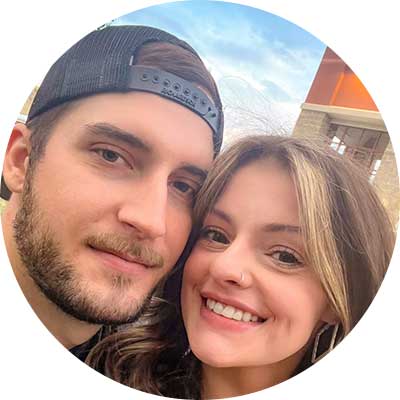 Kelsey Sargent
Marketing Manager
Hi there! I'm Kelsey! I am a native Montanan and currently reside in Billings. I moved to Billings in 2014 shortly before my sophomore year of high school. Throughout my early life, I was always playing a sport; basketball, baseball, track, and (my favorite) volleyball. At Billings Senior High, I was a part of one 3rd place finish and two state championships for volleyball. After high school, I played volleyball at Carroll College in Helena. Now, I coach at Senior and play in my free time with some adult leagues in town! Being part of a team, leadership, and character development have always been passions of mine, ingrained in me at a very young age.
I really enjoy spending time with my 4 nieces (the 5th is on the way!!) and 2 nephews, 3 sisters and brother, and my parents. My family is deep-rooted and means the world to me! I have my own little family with my boyfriend, Justin, and our 4 four-legged "kids" (Sunnie 9, Douglas 1, Stanley 10, and Toulouse 2). There is never a dull moment at the "zoo!" I absolutely love to adventure with my family, finding good hikes and walks any time we can!
I am extremely excited to be a part of Wegner Roofing & Solar and feel blessed to have the opportunity to thrive here!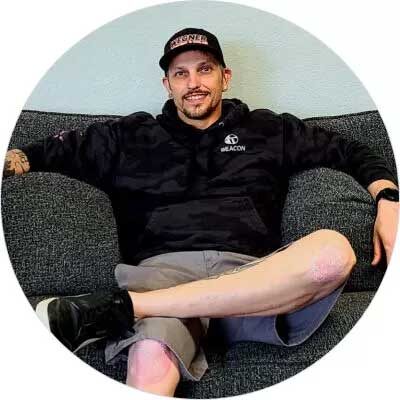 Brian Gibbard
Solar President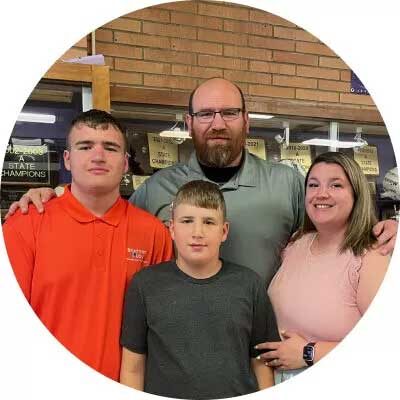 Josh Vogl
Solar Production Manager
I grew up in a small community in North Idaho. I attended the University of Montana Western where I studied Secondary Education and played football. I've spent the last 14 years holding different roles within the mining industry. I have a wife (Ashley) of almost 15 years, 2 boys Tevis (14) and Ryker (11). My family and I enjoy the outdoors, fishing, hunting and hiking. Avid football fans in the fall and youth lacrosse enthusiasts in the spring.
Billings Project Consultants
Skyler Ribble
Branch President
Hi, I'm Skyler, and I'm ready to help you with all your roofing and solar needs! I believe in quality work with clear, candid, and effective communication throughout your construction process. Over the past ten years, I've built a myriad of knowledge in the field, and I've played every role in the construction world. From pushing a broom to installing roofs and running crews, I'm equipped to answer any questions you may have. I have a passion for people and changing lives, and my skills and abilities in the construction industry allots for that. I value Faith, Family, and Freedom, so when I'm not at work, you can find me either on a golf course or on a golf course with my beautiful wife, Jewlz. I look forward to helping you and your family today!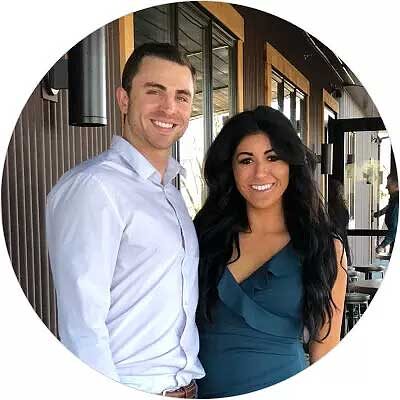 LUCAS BLEHM
Project Consultant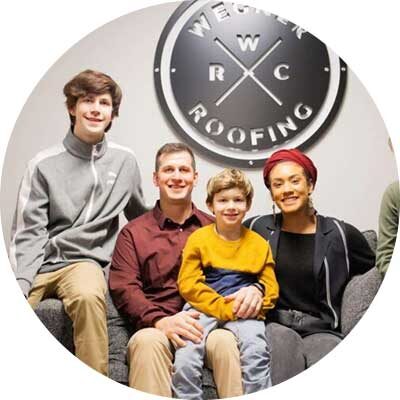 CHRIS WILLIS
Project Consultant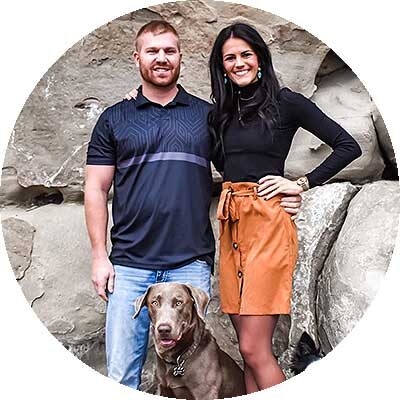 Brady Muller
Project Consultant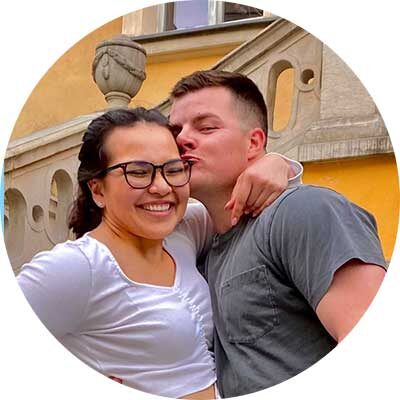 Isaac Coombs
Project Consultant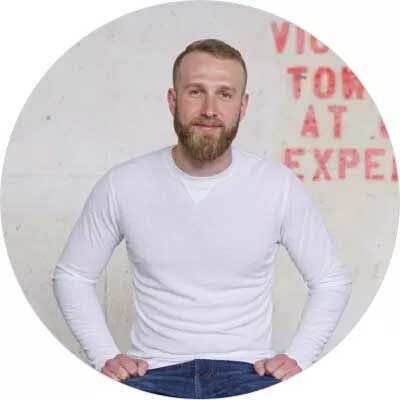 Matt Arps
Project Consultant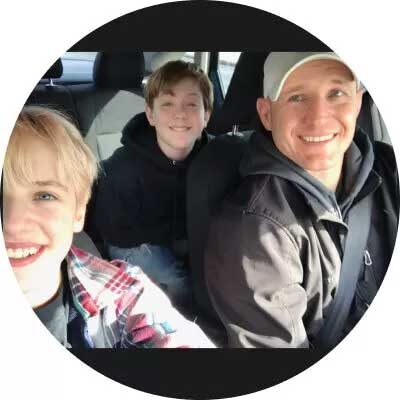 Jake Hauck
Project Consultant
Jacob is a father of two and a veteran of Operation Iraqi freedom. In his free time, he coaches high school wrestling and continues to serve in the Army National Guard.
Jacob is a graduate of Skyview high school and attended defense language institute and Sobel University, receiving his Associate of Arts degree in Applied Sales Science.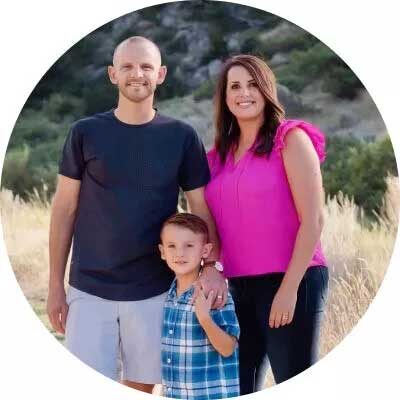 Matt Burton
Project Consultant
Matt Burton (Matty B) was born and raised in Billings, MT. After graduating from The University of Montana with a degree in Business-Marketing, he moved back to Billings to work at Cj's Bar & Grill, a local staple that has been in business for over 40 years. Cj's is where he met his beautiful wife, Courtney and where he eventually became part owner. Matt has held managerial and ownership roles in not only Cj's but also RocHouse. Matt and Courtney added the local clothing boutique to their portfolio in the summer of 2021 where Courtney runs the day-to-day operations and Matt takes care of the bookkeeping. Matt is also furthering his education in the Real Estate sector to broaden his knowledge in residential and commercial properties. This will give Matt a heightened knowledge on various aspects of our local community to help further his clients experience. Together they have one son, Max. Watching Max grow, and compete in various sports and activities is where he finds happiness. Being a good husband and father is the fuel that drives Matt each-and-every day. One thing you may not know about Matt: He's officiated 4 weddings.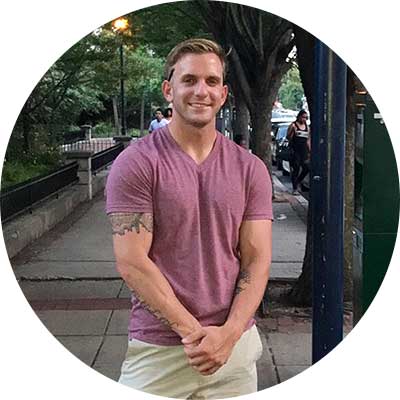 Aaron Fenno
Project Consultant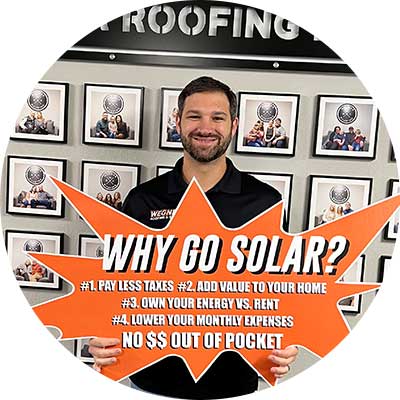 Eli Swain
Project Consultant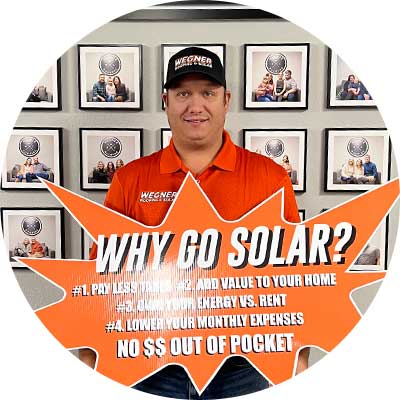 Kris Hein
Project Consultant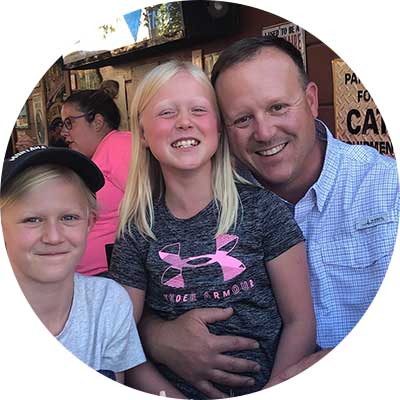 Scott Anderson
Project Consultant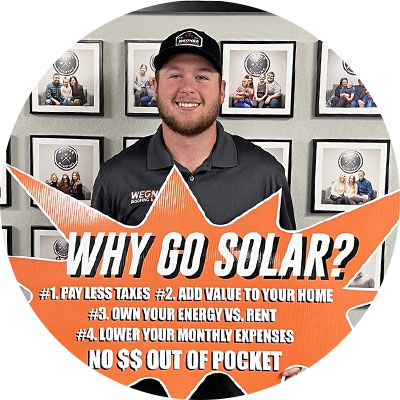 Vince Hall-Shipley
Project Consultant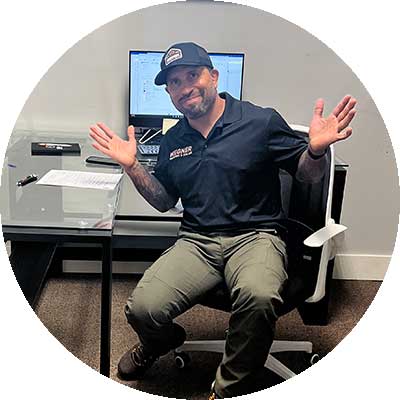 Danny Wilson
Gutter Production Manager
Rapid City Project Consultants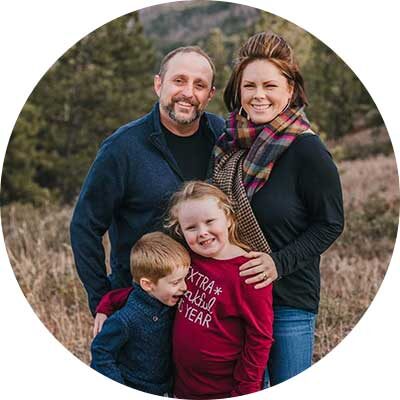 Jamey Nehring
Branch President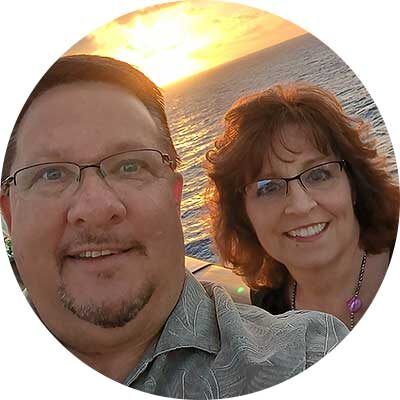 Doug Phelps
Project Consultant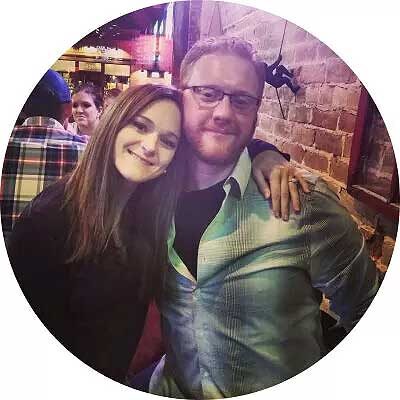 AJ MACAITIS
Project Consultant
My name Is AJ Macaitis. I was born and raised in Omaha Nebraska. I moved to the Black Hills 6 years ago because of my love of the mountains. I was married to the best lady in the world in May of 2019 at Sylvan Lake South Dakota. In my past life I was an Executive Chef of numerous operations and a Territory Manager for US Foods. I came to Wegner Roofing in December of 2020. At Wegner Roofing and Solar I have the opportunity to help homeowners navigate through the insurance process. In doing so I can also make sure that homeowners maximize the value of their claims along with making sure the insurance carriers treat homeowners fairly. From the first meeting to the final walkthrough, A five star job is my goal. In my free time I enjoy Fishing, Skiing, Hiking, Cooking, and getting lost in the Black Hills. I look forward to meeting you, and helping you with your next Roofing, Solar, or Siding Project.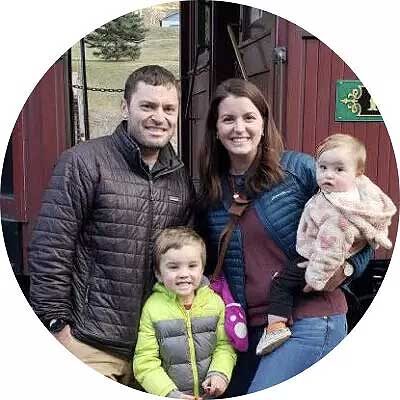 John Steele
Project Consultant
John was born and raised in Spearfish, SD, and was blessed with the opportunity to move back to the wonderful Black Hills area four years ago. He currently resides in Spearfish with his wife Christy of 12 years and two young children, Sam and Natalie. They love anything outdoors including hiking, biking, snowshoeing, skiing, and countless other adventures.
His first job was working at our small family business in Spearfish. Upon graduating from college, he gained invaluable experience working in business management and client-facing roles spanning several states and industries.
John strives to maintain professional, client-centric relationships and firmly believes in delivering 100% customer satisfaction. He is very grateful to be part of the Wegner team!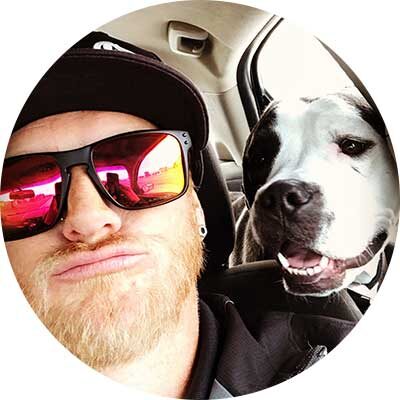 Michael Stierwalt
Project Consultant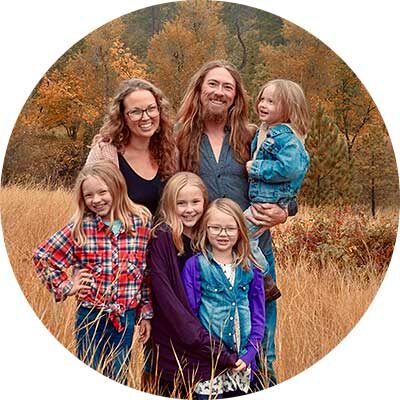 Donovan Schulze
Project Consultant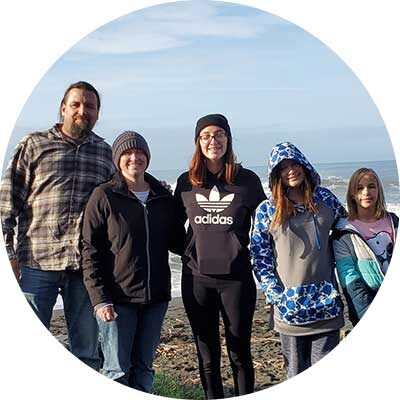 Mike Katon
Project Consultant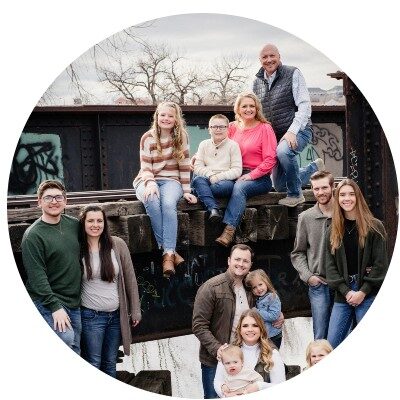 Gerard Torno
Project Consultant
Gerard Torno has been married to his wife, Melanie, for 12 1/2 years. Gerard has been working at Wegner Roofing and Solar since March and has some rental properties he manages with his wife. Melanie is a mental health therapist and operates her own growing business. Gerard and Melanie have five children in a blended family, with only two left at home. The oldest, Gabrielle, is currently stationed in Aviano, Italy with her husband, Kyle, and their three children, Emmarie, Sailor, and Oliver. Kyle is security forces in the Air Force and Gabby is a cosmetologist. Bailey, the oldest son, graduated with his mechanic degree in May and is expecting his first child in July with his wife Elizabeth. Abigail works at Evans Orthodontics and she and her husband, Braedyn, hope to live in Texas someday. Both Bailey and Abbie were married last summer and both live in Rapid City. Eleanor (Ella) is 11 years old going on 16, but with a 60 year old soul. She is a talented artist, becoming involved in singing and theatre, and going into her second year of middle school. Rylan is almost 10 and is definitely the baby of the family. He is a jokester who loves to annoy his siblings, is sweet as can be, and is going into his first year of middle school. The Torno crew is large and it is definitely loud when we are all together, but we wouldn't have it any other way.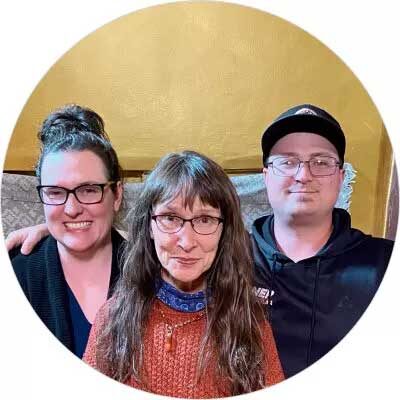 Benjamin Stout
Project Consultant
Benjamin was born in Rapid City and raised in Hill City, SD. He has a background of working in many of the local restaurants and saloons around the Black Hills area and is an enthusiastic new member of the Wegner team. He has a passion for music and electronic medias of all kinds, as well as outdoor activities such as hiking and swimming in the local lakes. When not working he likes to visit his mother and sister in Hill City, where his mom has owned a gift shop for the last 32 years.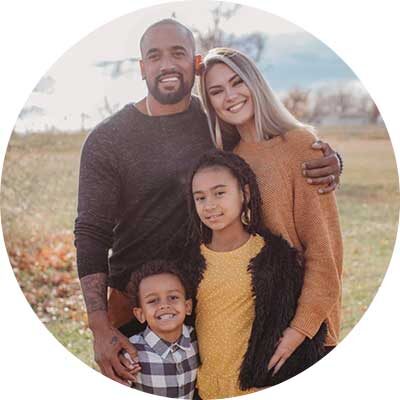 Josh Hansen
Project Consultant
John Anthony
Project Consultant
John Anthony is an Air-Force Veteran. Originally from Washington State. He has 5 children with his wife of 14 years. Has a background in Environmental and Electrical systems. And 20 years of sales experience. His hobbies include camping, hiking, working out, and modifying small structures to be energy independent utilizing solar power.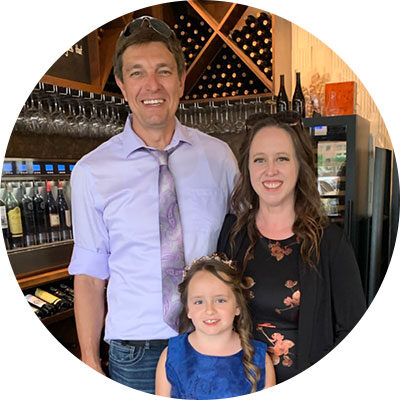 Steven Severance
Project Consultant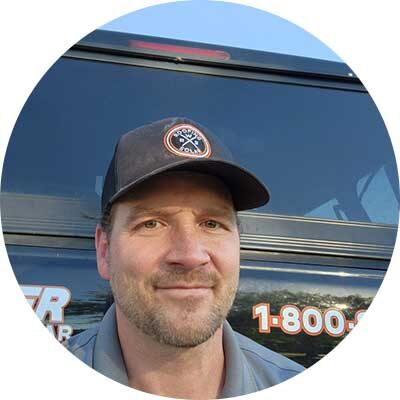 Drew Karstens
Project Consultant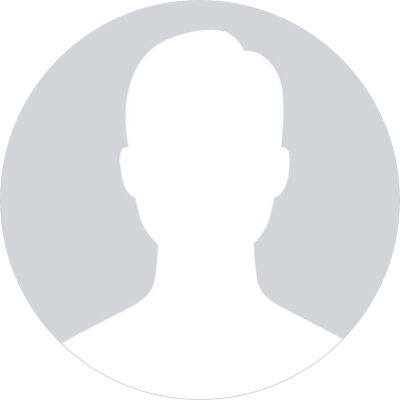 Gregg Dooley
Field Project Manager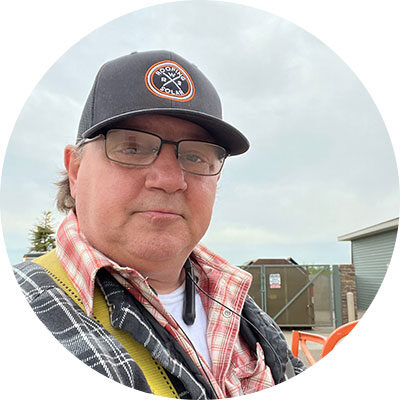 Larry Ingersol
Field Project Manager
Spearfish Project Consultants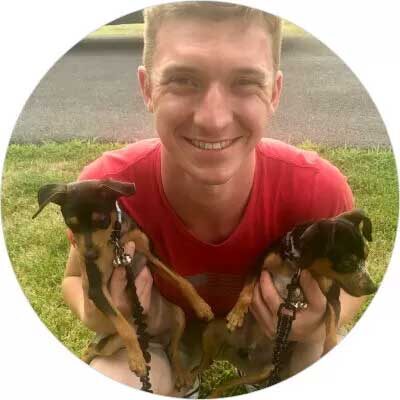 Samuel Maruszewski
Project Consultant
My name is Samuel Maruszewski and I am a part of the Wegner Roofing and Solar family. My role within the company is that of a project consultant. I come from a military family and have recently graduated from Trinity Bible College with a degree in exercise science. My core values come from the Christian and military family upbringing I have had. I am also an avid fitness enthusiast, believing it is our responsibility to live healthy lives spiritually, physically, and emotionally.
Sioux Falls Project Consultants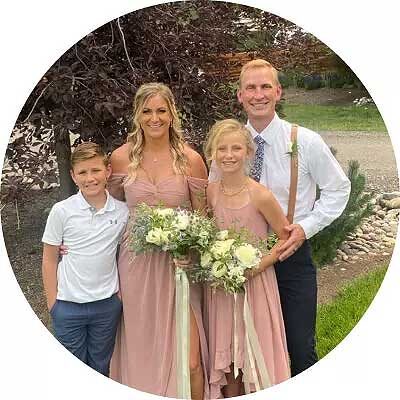 Adam Fischer
Branch President
Being born and raised in Sioux Falls, Adam has always called South Dakota his home. While attending the University of South Dakota he met the love of his life Amanda. They have two beautiful children Austin(12) and Adalynn(11). Both are extremely busy with sports, church, and all other activities. Adam's interests include: spending time with family and friends, the outdoors, coaching youth sports, and cheering on the Minnesota Vikings, Nebraska Cornhuskers, Duke Blue Devils, and Minnesota Twins. Adam takes immense pride in growing the Wegner name in the community and has seized every moment since the doors officially opened in January 2022.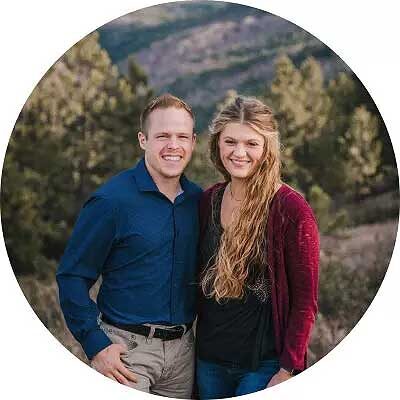 Matt Thompson
Project Consultant
Matt Thompson, one of our Sioux Falls Project consultants is married to his delightful wife, Jennifer Thompson. They are presently working towards the world record for longest marriage in the honeymoon phase.
Matt uses his passion for people, innate curiosity, and faith in Jesus to serve our clients. He enjoys hunting fishing, hiking, biking, and exploring new terrain. Matt and Jen are taking up scuba diving lessons for a tropical trip where they will dive with sharks and other marine life.
If you see Matt with a missing limb post shark dive, please be sensitive and high five the other hand.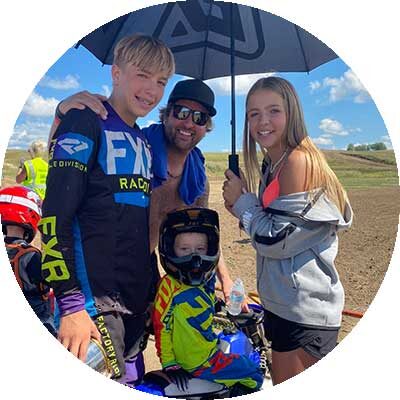 Nick Laddusaw
Project Consultant
Nick grew up in Sioux Falls SD. He attended high school and received his Associate's degree at Southeast Technical Institute. Nick honed his Motocross skills throughout high school and began racing professionally at 18. After a successful racing career, Nick shifted gears and got his CDL and drove truck for several years. Having seen the country, Nick stepped away from the wheel and onto a ladder.
Through a mutual connection, Wegner Roofing and Solar reached out to Nick and the rest is history. Nick carries invaluable experience from prior construction work and has helped hundreds of clients navigate the insurance claims process to have their roof replaced. Nick excels in meeting deadlines for clients and ensuring they are treated fairly by their insurance company.
During free time, mountain biking, camping, snowboarding and wakeboarding fill his schedule and soul. As a full time father of 3 kids, Nick often attends their sporting events.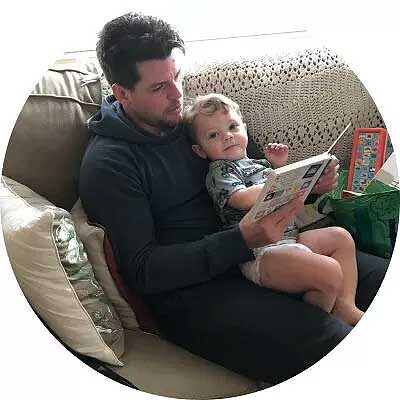 Noah Sanderson
Project Consultant
Noah was born and raised in South Dakota graduating high school in Brookings, with all-state honors in football and soccer. Football was his true passion taking him to Dakota State University where started his final 3 years – Noah graduated with a Bachelor's in Business Administration taking him to opportunities around the country. Noah recently moved back to Brookings 3 years ago where he has been helping at the family farm, providing education for our youth, and raising his 22 month old son Everett!
Noah enjoys spending time with family and friends, anything outdoors, routing on the Minnesota Vikings, lowa Hawkeyes, and his always faithful Brookings Bobcats!
Noah is excited to get to work and is looking forward to meeting, educating, and empowering those in the region.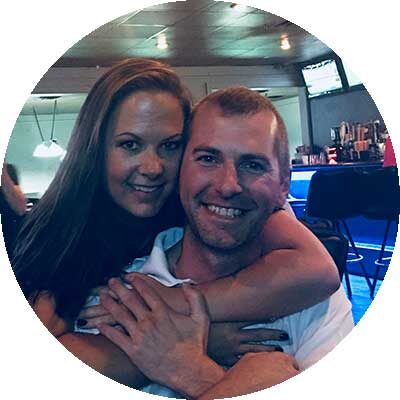 Jake Worthley
Project Consultant
Sales Consulting has always been a passion of Jake's. Here at Wegner Roofing and Solar, Jake has found the best place to utilize his skills in customer service and knowledge in the trade industry to bring clients' needs to fruition.  With, personally, over 20 years of trades experience, you're in great hands in choosing Jake as well as Wegner Roofing & Solar with your roofing, siding and solar projects.  Aside from high expectations of himself, Jake plays as hard as he works.  You can find him fishing and camping as often as possible with my 4 kids and his better half, Billie, and Golden Doodle, Loona.  Living in Sioux Falls, he has called South Dakota home since 2010, but originally hails from the Southwest MN and Northwest IA area.  Whether you are in need of a new roof, new siding, or solar power, thank you for entrusting us with your home remodeling,  restoration and solar projects.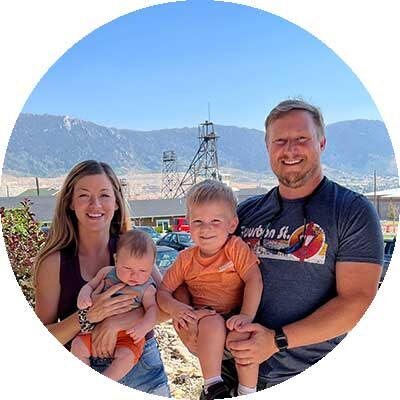 Brandon Oetken
Project Consultant
Brandon comes to us with a strong background in trades, building materials, projects, property management, real estate, finance, and agriculture. Raised in South Dakota and a multi-grad at SDSU, he and his family reside in Sioux Falls. In his spare time, Brandon keeps very busy with his growing family, and enjoys hockey as his favorite hobby and pastime.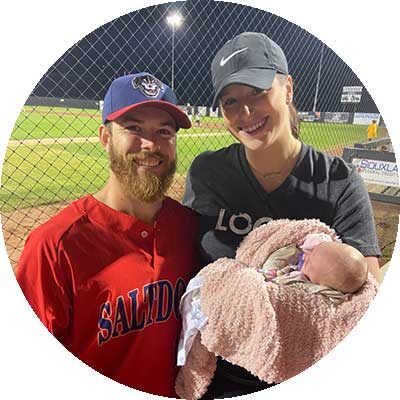 Hunter Clanin
Project Consultant
Hunter has a very unique story leading to residing in Sioux Falls.  Recently moving from Tampa, Florida where he focused on the development of Solar Energy in the south.  Hunter is stationed in Harrisburg with the love of his life, Paige, and their 3-month-old daughter, Sawyer.  Hunter's hobbies include developing young athletes, hiking/kayaking, and, most importantly, spending as much time with his family as possible.  A minor league baseball player with a large passion for Solar Energy and its benefits, Hunter has come to Sioux Falls & Wegner with a goal in mind: To change the perception of Solar Energy in the north and help others take advantage of its benefits, as well as help the world change the way we produce & consume energy by using sustainable, renewable resources.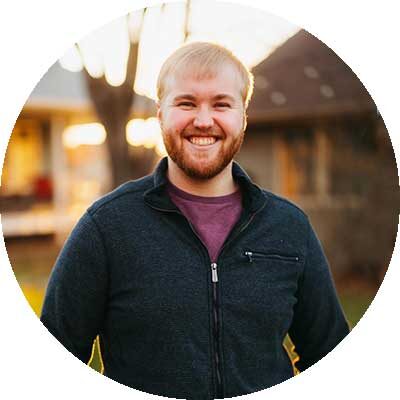 Nick Cavanaugh
Project Consultant
Nick was born and raised in Sioux Falls and has stayed connected to the community. After high school, Nick went on to attend and graduate from South Dakota State University in Brookings, SD gaining his diplomacy in general studies.  In his free time, Nick enjoys spending time with his family, watching football, hunting, playing with his dog (Jaxx 3), and flying airplanes! Nick brings a tenacious passion for service, along with a positive attitude, fantastic communication, a strong work ethic, and an enjoyably fun sense of humor!
Williston Project Consultants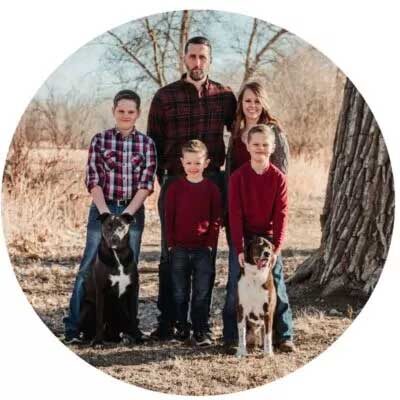 Rex Causey
Project Consultant
Rex is a Texas native from the greater Houston area who landed in the upper midwest through a college basketball opportunity where he attended Trinity Bible College in Ellendale, ND. There he earned his bachelor's degree while playing college basketball and football, but most importantly he met his beautiful ND born-and-raised wife Kristi along the way. They were married after graduation and that summer they moved south to take a coaching and teaching job in the Houston area where they lived for about 13 years prior to coming back north in the summer of 2020. In that time, Rex and Kristi were blessed with 3 boys and 2 dogs added to the family.
Along with his professional career as an educator and coach, Rex has added to his résumé with a Master's degree in Administrative Leadership, experiences running his own personal training business in the Houston area, and several years working in leadership and sales service roles in corporate restaurants such as Chili's and Chick-Fil-A. These educational and professional experiences have helped Rex develop a professional, servant-leadership mindset that puts others first and fits right in with the culture of the Wegner Roofing and Solar family where we do whatever it takes to provide 5-Star service for our community. Kristi is also a tremendous support and helps with many of the things we do for our clients as we oftentimes are a husband-wife duo on a job.
When not climbing on roofs, Rex enjoys spending time with family, playing and coaching sports with his sons, and trying his best to transition from city boy to country boy by fishing and hunting when he can. 
Des Moines Project Consultants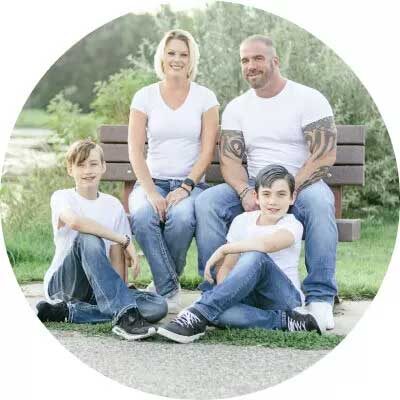 BRUCE JONES
Branch President
Bruce Jones loves his family. His family consists of his Fiance Shannon and their two children, Julius and Taylon. They enjoy the outdoors, fitness, and spending time together as a family.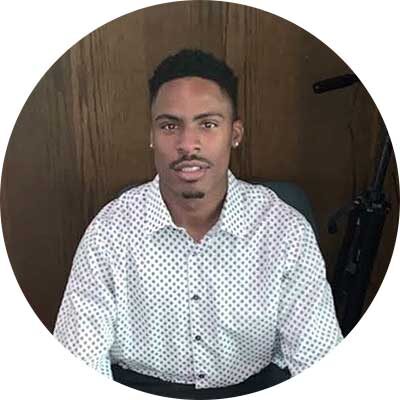 Eddie Warren
Project Consultant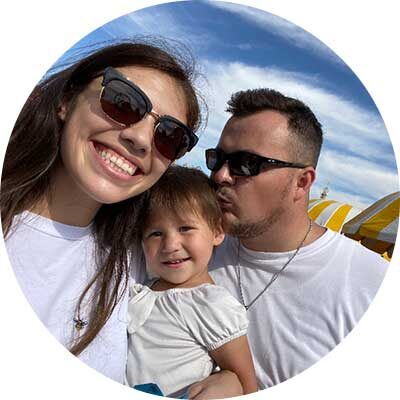 Nick Adams
Project Consultant